Celler Batea will be exhibiting at Alimentaria 2016
Between 25 and 28 April 2016, Alimentaria will once again become an international business centre for all food, drinks and culinary industry professionals. This is a date with innovation, the latest trends and international expansion no one in the industry will want to miss.
Alimentaria 2016 will continue to focus on maintaining and strengthening the main foundations of its growth: internationalisation, innovation, gastronomy and specialisation. Some of Alimentaria's shows and content are also being re-imagined in exciting new ways.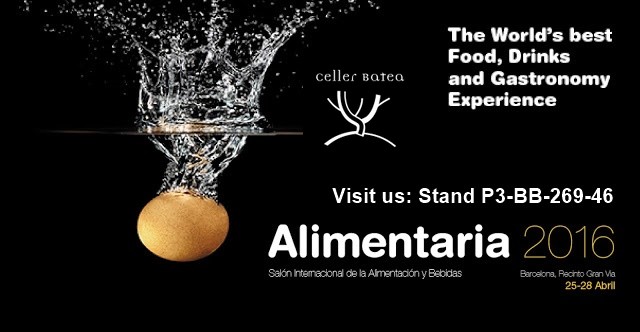 Celler Batea  participates one more year in this edition of Alimentaria fair where we will show a renovate  corporate image.
We will be in the P3-BB-269-46
For those interested in visiting us and taste our wines with its stunning presentation, please contact our Export Director, Armando Navascues (export@cellerbatea.com or on his mobile phone +34 630 889 646-Whatsapp if you wish)
See you at Alimentaria!
Patricia Arranz Moro
Celler Batea: Winemaker and Comunity manager